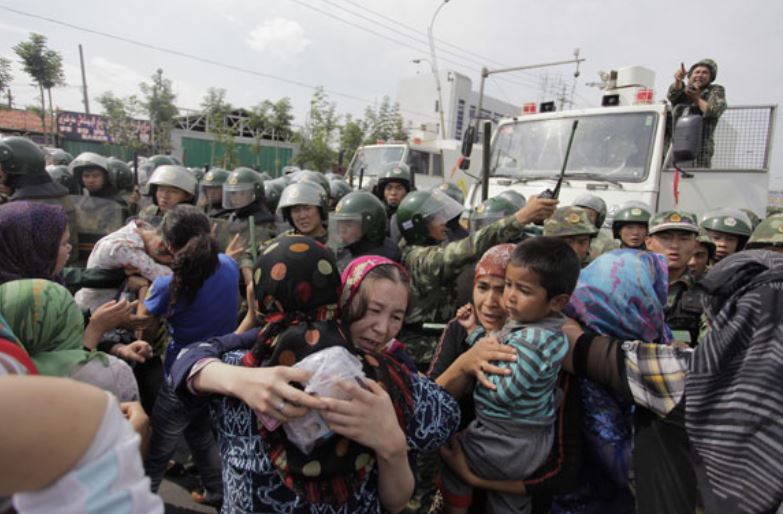 by David Hogberg | Washington Examiner | October 29, 2020
Mihrigul Tursun's nightmare began in March 2017.
She returned from Egypt, where she had been living and working, to Xinjiang, a province in the western part of China. She was born and raised in Xinjiang as part of the ethnic Muslim group there known as Uighurs. At the time, Tursun had triplets who were two months old, and she was returning to Xinjiang so that her relatives could help her raise them.
Upon arriving in Xinjiang, Chinese police detained her, took away her children, and then sent her to a detention center. Tursun said she spent the first seven days of detention in a dark room with no windows or lights.
"I didn't know if night was coming or day was coming," Tursun said. "I [was] feeling depressed, and I ask myself if I was dying or dead."
She was released but then arrested again in April 2017 and again in January 2018. The last time, she was sent to a detention camp with other Uighur women. While there, Tursun said she was forced to drink what she calls a "medicine" and that she was also injected with an unknown liquid three times.
With help from U.S. officials, Tursun reached the United States in 2018. Soon after, she was examined by doctors, and it was then she learned what kind of "medicine" she had been given.
"They said there was a 90% chance I couldn't have [another] baby," Tursun said.
Tursun is the victim of a Chinese policy of population control practiced against the Uighurs in Xinjiang. For Uighur women, this may mean sterilization, forced abortions, or the insertion of an intrauterine device, according to Adrian Zenz, a senior fellow in China studies at the nonprofit Victims of Communism.
"The Chinese government has created a mechanism by which it can control Uighur population growth," Zenz said.
Sterilization can have devastating mental effects, especially for people such as the Uighurs, who prize families.
The academic literature reveals that forced sterilization has a strong impact on mental health. A study of American Indian and Alaska Native women who underwent sterilization were 2.5 times more likely to have mental health problems than women who did not. A recent article in Sexual and Reproductive Health Matters about forced sterilization of HIV-positive women in Namibia showed that most of the women reported significant emotional distress over no longer being able to bear children. Some even experience severe depression.
That has been a problem for Tursun.
"It makes me depressed, like I'm done, like life is done," Tursun said. "I take medication for depression in [the] morning and [at] night."
Zenz said that China's policy is a response to the growing Uighur population in Xinjiang.
"Uighur population growth has been viewed with suspicion. The Chinese regime does not wish the Uighur population to grow faster than the Chinese population," Zenz said.
In 2000, Uighurs accounted for about 43% of the population in Xinjiang, while the ethnic Chinese, known as "Han," accounted for about 40%. By 2018, the Uighurs had grown to over 46% of the population while the Han had shrunk to 39%.
The Uighurs put a high value on having large families. For the women who are sterilized, this can add to their mental health problems, including feelings of worthlessness and hopelessness.
"Before, I want many kids, I want a big family," said Tursun. "But my hope, the Chinese government killed it. It killed my hope, like my life is done. Sometimes, I have dream[s] that I can have [a] baby. But then, I wake up, and I cannot."
The experience has also caused Tursun difficulties sleeping.
"I have problems. I worry all the time," she said. "I worry that somebody come and open my stomach and do surgery. Or that they want to kill me. It is nightmare, a bad dream."
The Chinese efforts to control the Uighur population are extensive. Zenz has found that China planned to subject 80% of women of child-bearing age in the southern areas of Xinjiang to IUDs and sterilization by 2019. Additionally, in 2019, 80% of all new IUD insertions in China were performed in Xinjiang. The policy has also resulted in both men and women being detained in what critics call internment or concentration camps. As many as 1 million Uighurs and other ethnic minorities in Xinjiang may have been sent to such camps.
In an email, the Chinese Embassy in the United States referred the Washington Examiner to various Chinese white papers and press conferences with Chinese authorities that claim the authorities in Xinjiang are fighting terrorism and extremism. "For a long time terrorist and extremist forces have been beating the drum for separatist activities by … exaggerating the cultural differences between ethnic groups, instigating isolation and hatred, and advocating religious extremism," said one paper.
But Chinese authorities may have a very loose definition of extremism.
"The reasons for detentions are varied, but a big one is religious extremism," said Alim Seytoff, director of Uighur services at Radio Free Asia. "If you have a beard, that is a sign of religious extremism, and you can be detained. If you are a woman with a headscarf or long dress, that is a sign of religious extremism. If you go to a mosque, that is a sign of extremism. China has criminalized all aspects of Uighur religious beliefs."
The Chinese Foreign Ministry has also called Tursun's claims a "complete lie, told with ulterior motives."
Many nations have condemned the Chinese actions in Xinjiang, including the U.S.
"What we are seeing in Xinjiang today ⁠— in terms of scope, scale, and intensity ⁠— is one of the most flagrant abuses of human rights that the world has seen in the past half a century," said Ambassador Kelley Currie in a statement to the Washington Examiner.
Currie, head of the Office of Global Women's Issues at the State Department, singled out one international organization for its silence on the issue.
"The U.N. has remained silent about what is going on in China," she said. "Its leadership and staff have worked to instead actively promote the Chinese Community Party's signature global foreign policy initiative, the Belt and Road Initiative, and blocked the participation of Uighur activists in U.N. meetings."
Neither the office of United Nations Women nor the office of the United Nations High Commissioner for Human Rights responded to the Washington Examiner's request for their positions on the treatment of Uighurs.
The biggest blow to Tursun's mental health came when she was released from her first detention in 2015. Her triplets were kept at Urumqi Children's Hospital in Xinjiang. When she went to retrieve them, she was told that one of them, her son Mohaned, had died.
"I told them, 'You killed my kid,'" she said. "I lost feeling. I cannot accept it."
The worst happened when they returned Mohaned to her.
"At first, I think he is sleeping. 'Wake up. Wake up,' I said. 'I want to give you milk,'" she said. "I told them to give me a blanket. I want to keep him warm. I began to cry, 'No, God, please give me my kid.'"
Tursun currently lives in Virginia with her two remaining children, a son, Moez, and a daughter, Elina.